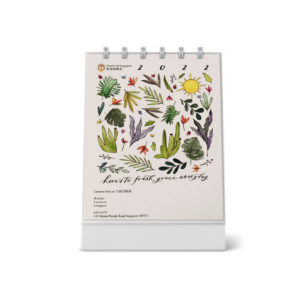 2022 Desktop Calendar
$28.00
A5 sized
12 illustrations, one for each month. Each month spans 2 pages (illustration on one side, calendar on the other)
Bilingual calendar
Orders opened only till 29 Dec, and calendars will be delivered by 23 Jan.
Email me if you'd like to make bulk orders of 10 and above!
Purchase this product now and earn 28 Points!
Related products
Life's Miracles | A4 Print

Life's Miracles | A4 Print

I am a healthy able-bodied 29 year old with a future ahead. That is a miracle. Living till 80 is a miracle. Having a child is a miracle. In fact, with or without disease, being able to wake up every morning is a miracle. If you look closely, I've tried to cover every stage of life in this little illustration. I hope that when you look at this print, you're reminded how much of a miracle every day is, and how much of a miracle you are! Each print also comes with a small little paragraph about how the artist came up with the concept behind each illustration. Originals vs. Prints: An original work is individually hand painted. As originals are made to order, please allow for 2 weeks for the work to be produced before shipping. A print on the other hand is scanned from an original and reproduced/printed digitally.